Below you will find instructions on how to install/remove or replace the internal battery of the ROCKSTER. This information can also be found in the instructions included with the main unit.
If a replaced battery/rechargeable battery has become unusable, please follow these instructions for disposal.
Legend I ROCKSTER rear view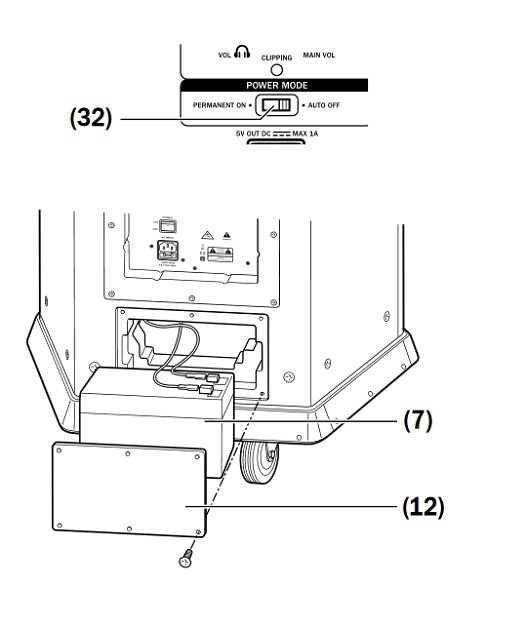 Instructions for replacing the battery
Unplug the ROCKSTER from the power outlet.
Slide the POWER MODE switch (32) to the "PERMANENT ON" position (on the rear panel).
Remove the six screws from the battery compartment cover (12).
Remove the battery compartment cover. In the battery compartment you will see a red and a black cable with sockets.
Only when removing or replacing the battery: Carefully disconnect the plug-in terminals from the installed battery and remove it. For initial operation, skip this step.
Remove the (replacement) rechargeable battery (7) from its packaging and observe the enclosed safety instructions.
Connect the red cable to the positive (+) terminal of the rechargeable battery (7).
Connect the black cable to the negative terminal (-) of the rechargeable battery.
Carefully insert the battery into the battery compartment.
Replace the battery compartment cover.
Tighten the six screws.
Charging the battery
Note: The (spare) battery is only precharged when delivered. Please fully charge the battery before using it for the first time.

The maintenance-free internal battery is charged as soon as the ROCKSTER is connected to the mains (39). During charging, the left BATTERY STATUS LED (39) lights up. A complete charging cycle of the internal battery takes approx. 7 hours. After charging, the integrated charger switches to trickle charge and keeps the battery fully charged even for several weeks. The maximum playing time depends on the low frequency content of the material being played back. A high proportion of low frequencies (bass) reduces the maximum operating time. With the battery fully charged at maximum volume when playing pop music, the operating time is about 6 hours, and up to 24 hours at low volume.
During battery operation, the center BATTERY STATUS LED (39) "INT." indicates the battery charge level:
- LED on steady = > 50 %-
LED flashing slowly = 50-25 %-
LED flashing fast = <25 %.
NOTE: A deep discharge will irreparably damage the battery. - Charge the battery no later than when the "< 25 %" indicator is reached. To protect the battery, the ROCKSTER has a deep discharge protection which switches off the device when the threshold value is reached.