Select product
Once you have decided on your desired system/product, simply click on the item to access the product detail page.

Configure product – product detail page
On this page you will see all information about the product listed. Determine the colour of the product, e.g., black or silver in the "Color" option field in the right column if colour variants are available.
In most cases, our speaker prices are pair prices. You can find detailed information about the included quantity in the "Scope of delivery" section.
Add to shopping cart
If all details are to your satisfaction, put the product into the shopping cart with the green shopping cart button.

The shopping cart symbol in the upper right corner now indicates that a product is in the shopping cart: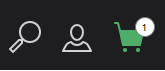 If you hover over the shopping cart icon with your mouse, the contents will be displayed and you can click on "Go to shopping cart" to go directly to your shopping cart.
A new page will be loaded, you will see the products in the shopping cart.
View and change shopping cart
In the shopping cart you will see the current content of your purchase. On this page you can make changes at any time. You can add other products or – in the column "Quantity" – remove existing ones or increase or decrease the number of products. The respective shipping costs are also displayed.
Enter voucher
If you want to use a voucher, please enter the code of the voucher in the field "Redeem a voucher" and then click on "Redeem":


The invoice total in the shopping cart will then automatically be reduced by the value of the voucher.
For the next step, please click on the "Checkout" button on the right side of the page.
Step 1 & 2: Login & Address


Are you already a registered Teufel customer and in possession of your user name and password? Then you can simply log in in the "Login" section.

If you would like to create a customer account, please select "Sign Up" and follow the steps.

If you would like to order as a corporate customer, please select "Corporate clients" and contact our B2B department via the indicated way.

However, it is also possible to carry out the ordering process without registration (guest order). To do this, please select "Buy as Guest".

Then enter your name, address, and other personal data. You also have the option to enter a separate delivery address. The mandatory fields are marked with *. Once you have entered all the necessary information, click on the button "Go to payment".
Step 3: Payment method
On this page you can select the payment method. By selecting a payment method, you will be shown detailed information about it. Once you have entered all the necessary information, click the "Continue with this payment method" button.
Step 4: Summary "Check and Order"
On this page, you will find a summary of the selected items. Here you can check your details once again. If any information is not correct, or you have changed your mind regarding the quantity, you will find links labelled "Edit" that will give you the opportunity to make corrections. Alternatively, you can use the back button of your browser.

After you have checked the small box to accept the terms and conditions, and the withdrawl and privacy policy, click on the button "Submit your Order". By clicking the button with the payment method such as "PayPal", your order becomes binding.

By closing the browser window, you can cancel the process at any time. On the individual pages you will receive further information, for example on correction options.
Step 5:
If the order is accepted, the order confirmation follows via email.