Conveniently save radio stations via direct keys & play them again at any time
Direct selection buttons are suitable for saving the current stream and restarting it at any time if desired. The direct selection buttons are located directly on the control panel on the front of the following Teufel streaming devices from the 2nd generation:
> Teufel ONE S, ONE M, STEREO M / L and CINEBAR LUX.
You can also find more information on use in the operating instructions.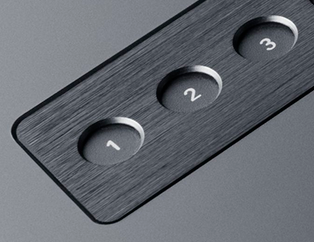 Save & start radio stations - it's that easy:
As soon as a stream such as a radio station, a playlist or a song is started from the Teufel Raumfeld app, it can be saved on one of the three or four buttons (depending on the device). To do this, press and hold the desired button until an acoustic signal confirms successful saving.
The previously saved stream or radio station can now be restarted whenever you want by briefly pressing and holding the corresponding button. This even works when the devices are in standby or the app is not currently started. The cell phone does not need an active connection in the process either. You can also reassign the buttons at any time.
CINEBAR LUX - 1, 2, 3 favorites made easy
The CINEBAR LUX also has direct selection buttons. These are located on the wireless remote control. Buttons 1 to 3 are numbered, easy to see on the wireless remote control and work just like the integrated selection buttons on our Teufel streaming speakers. With one small special feature: the buttons on the remote control are assigned twice - depending on the operating mode. If you listen to the TV sound via HDMI, the buttons can be used for the sound image. If you stream music, the direct selection buttons are used.