If the update is not completely installed or/and the display on the CINEBAR PRO "Update in progress" does not change for a long time, please proceed as follows.
1) Disconnect all HDMI cables from the CINEBAR.
2) Press and hold the RESET button on the rear of the soundbar (10) for 10 seconds (sound settings will be lost during RESET, WIFI settings will be retained).
BACK GRILL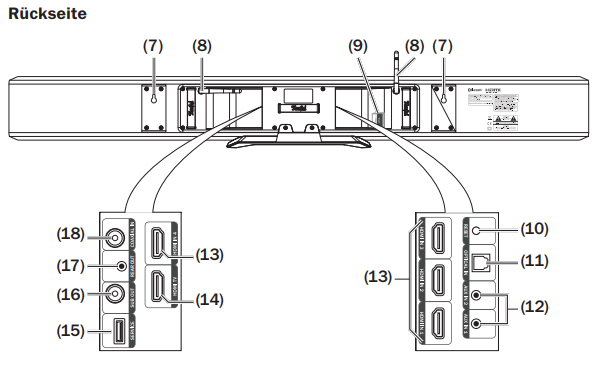 3) Unplug the power cable and wait about 3 minutes.

4) Reconnect the power cable.

5) Turn on the CINEBAR.

6) "New Update" appears in the display - please be patient then, after a few minutes the progress indicator will change.

7) the CINEBAR restarts - the update has been successfully installed.
Please excuse any inconvenience that may have occurred.