Note: Even though the first connection of the wirelessly operable EFFEKT rear speakers is similar to pairing devices via Bluetooth, the EFFEKT speakers do not support Bluetooth and can therefore not be paired via Bluetooth (for example with a smartphone). Instead, the EFFEKT boxes are controlled via a wireless connection.
EFFEKT boxes are currently compatible with ...
... the current versions of CINEBAR Pro, CINEBAR LUX, CINEBAR ULTIMA, CINEBAR 11 (from 2021), CINEDECK, CINEBAR DUETT* (*only versions with E in the product name),
ULTIMA 25 Active, ULTIMA 40 Active, ULTIMA 40 Activ Mk2 18
EFFEKT Speakers: Initial Pairing
Illustration rear side EFFEKT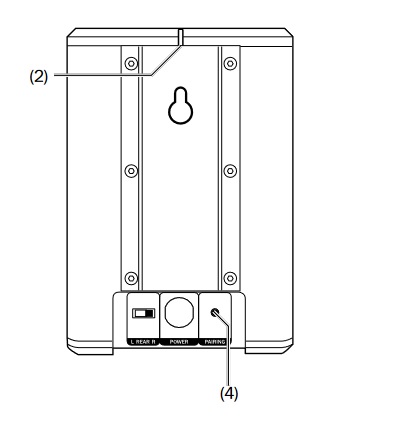 Press and hold the PAIRING button (4) on the EFFEKT speakers until the power indicator (2) flashes white quickly.
Put the external player into pairing mode as well.
Note: The exact steps, as well as the position of the pairing button, vary slightly from system to system. For more information on initiating pairing mode on the source player, please refer to the source player's manual.
Once the EFFEKT speakers have found a compatible transmitter, they will pair with it.
The power indicator (2) will then light up white permanently.
Do you have already used the speakers and have further questions?
Please check our FAQs.