With the introduction of HDMI, devices can communicate with each other much easier. However, problems can always occur between devices. With the following tips, you can fix common errors.
Explanations
ARC – Audio Return Channel: If the TV has an HDMI connector that is suitable for ARC (indicated on the HDMI connector), audio transmission via this HDMI connector works in both directions – i.e., from and to the TV.

CEC – Consumer Electronics Control: Allows devices connected via the HDMI/ARC connector to be operated using the TV's remote control. This is a so-called CEC network that is established between connected devices.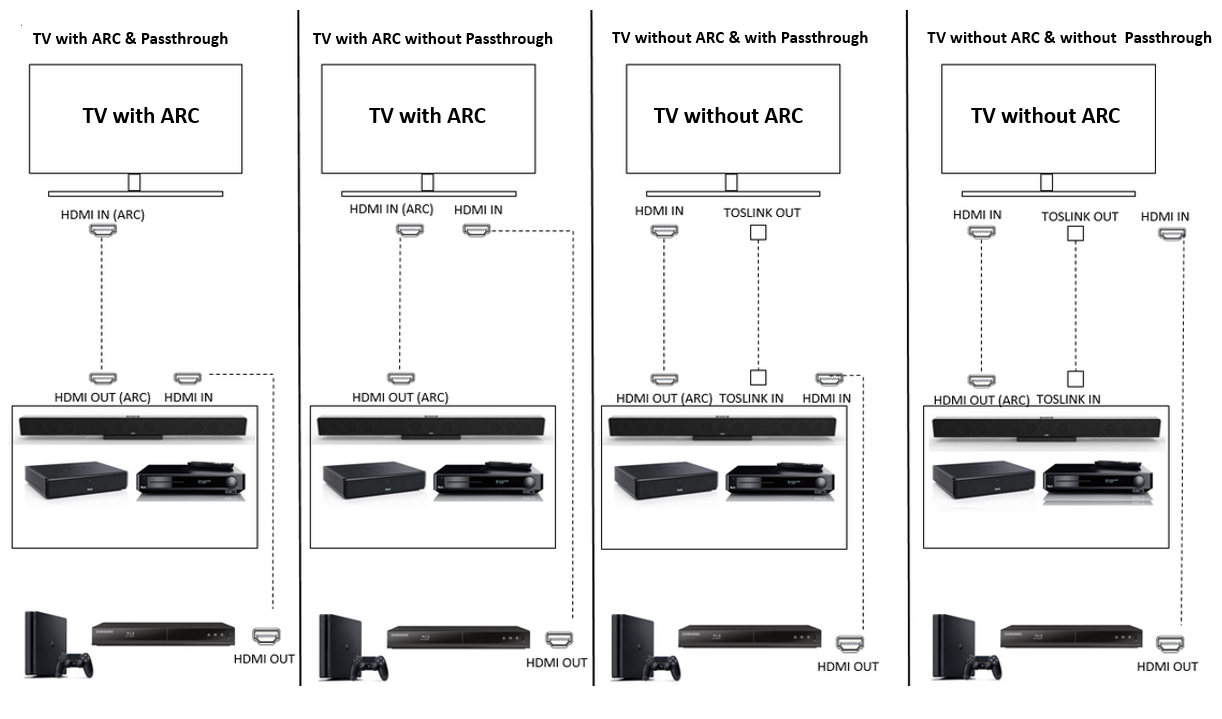 Troubleshooting
If the sound from the TV does not reach the Teufel system via HDMI ARC, please check the following:
Does the TV support ARC and is ARC activated? Which HDMI port supports ARC (it does not necessarily have to be HDMI port 1)?
Many devices require HDMI CEC to be enabled in order to use the ARC function.
One of the most common causes of HDMI problems is the so-called "HDMI handshake problem". The HDMI handshake is the process by which devices are recognized and authorized. If this process fails, unplug all devices for 30 seconds and try again.
Are all cables connected properly? Please try to disconnect the cables and then reconnect them.
The CEC transmission protocols of the TV manufacturers, such as Viera-Link (Panasonic), Anynet (Samsung) and the like, should be deactivated for testing purposes.
Replace the cables with high-quality, shielded cables. Especially cheap cables often have only minimal shielding. Also try a different HDMI connection (if possible).
Locating the issue
Remove all HDMI devices connected to the TV.
Check that the TV is operating normally without any HDMI devices.
Connect a device to the TV via HDMI and check if everything works properly.
If the first device works, remove it, and proceed with the other devices in the same way. Once you have checked all the devices one by one and they all work without any problems, you need to find out which device is causing the communication problem. First, connect the soundbar, AV receiver, or home theatre system to the TV and check if everything works.
Now add more devices and check each time if everything works correctly. Eventually, the problem will occur.


Try one of the following options:
Make sure the connected device has the latest firmware and reset the system to factory settings.
Disable HDMI CEC on the device.
Attach a ferrite filter to the HDMI cable and/or the power cord of the device.