This article will help you set up RADIO 3SIXTY & MUSICSTATION via the Teufel Remote App.
Preparation
Keep the password for your WLAN handy
Download the Teufel Remote App to your smartphone Download App (Links)
Link > App Download for iPhones > to Apple App Store
Link > App Download for Android > to Google Play Store
First steps on the radio
Connect the device to the mains and start the device
The display shows "Set up device? Select "Yes" here
Find out about the terms of use and accept them.
Select the type of setup (via app or on the device).
Note: This article informs you about the setup via Teufel Remote App. For the "Setup on device" option, you can use the enclosed instructions.
Setup via Teufel Remote App
Start the Teufel Remote App
Approve the location sharing if necessary. Help?
Find out about data protection and accept the conditions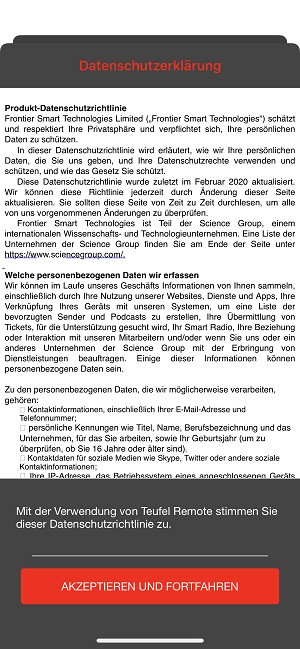 Ignore the automatic search and tap the "Set up audio system" option at the bottom of the app. This will launch the app's setup wizard.
Now activate the setup mode on the RADIO 3SIXTY and continue by tapping the "Next" button in the app.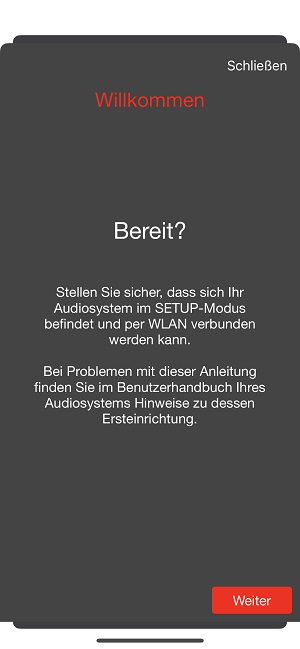 The device now creates a temporary setup WLAN, to which your smartphone must now connect. Afterwards, the wizard will automatically jump to the next step.
Note: For Android devices, the connection to the setup WLAN is automatic. For iPhones, please open the iPhone main menu "Settings", then go to the entry "WLAN" and search for a WLAN with the identification "Audio System+Numbers", e.g. "Audio System 00:22:99:13:90". Connect your iPhone to this setup WLAN.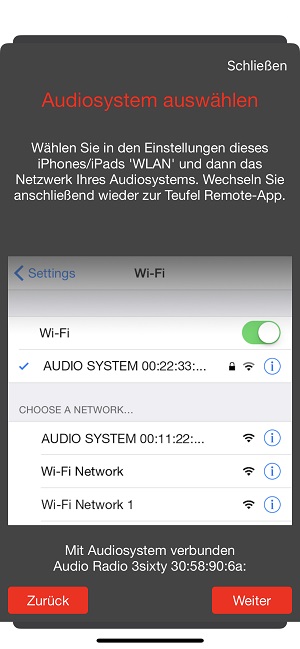 Naming the device: In the next step, you have the option to assign a fixed name to the device.
Important note about the device name: The name to be set here is also the device's call name for voice commands. Therefore, enter a short, easy-to-speak name here that is easy for Amazon Alexa to understand, e.g. Kitchen, Kitchen Radio, Teufel Radio. A later renaming is only possible in the Amazon Alexa app.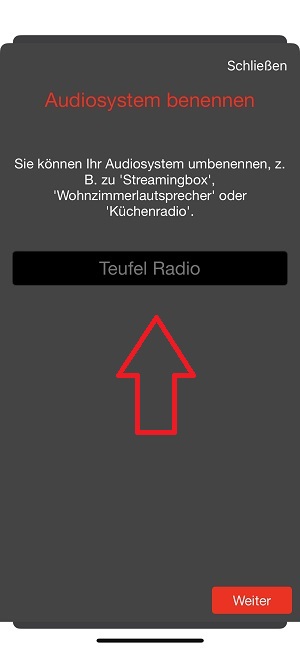 In the next step, the device adopts the date & time of the smartphone. Confirm this with "Next".
Now you can - if desired - determine the display language. Currently you can choose between German and English
In the last step, you assign your home WLAN to the device and enter the WLAN password. Then tap on "Next" to complete the setup.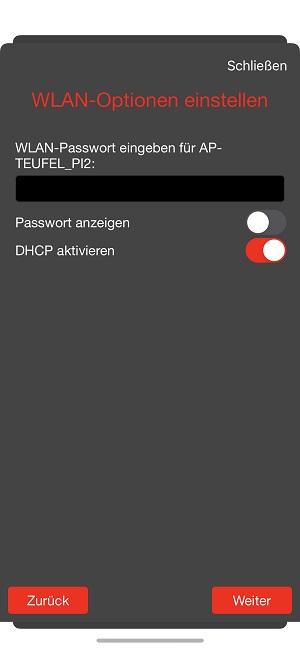 Wait until setup is completed automatically. The device is now set up and ready to use. The next time you start the Remote App, the device will be displayed under "Audio System" and can be selected there as a player.
(wurde automatisch übersetzt)