Note: In this article, you will learn how to add the streaming service "Amazon Music" as a source to RADIO 3SIXTY/MUSICSTATION. Please note that the use of the streaming service "Amazon Music" may be subject to a charge. For more information, please contact Amazon.
Requirements for playing "Amazon Music" content on RADIO 3SIXTY/MUSICSTATION
Current RADIO 3SIXTY/MUSICSTATION (does not apply to RADIO 3SIXTY (2019) and MUSICSTATION (2020)).
Amazon account with Amazon Music option available & login known
RADIO 3SIXTY/MUSICSTATION set up in WLAN and ready to use. Help?
Teufel Remote App installed on a smartphone. Help?
Note: Adding "Amazon Music" to your radio is ONLY possible via Teufel Remote App.
First steps
Start the Teufel Remote App and the device.
In the Remote App, select the previously set up RADIO 3SIXTY/MUSICSTATION as the audio system.
Now click on the "Amazon Music" entry in the source selection, then "Browse".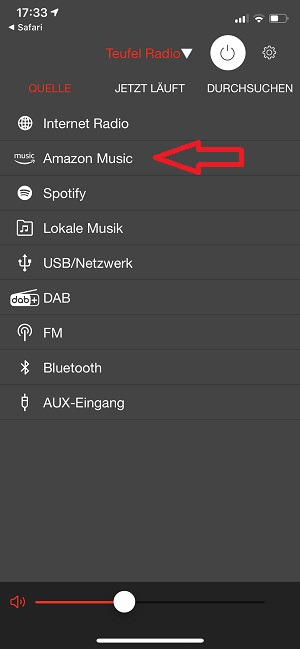 If you were not already logged in with Amazon Music on the device, the login window will now appear. Click on "Login with Amazon" and enter the login data of your Amazon account.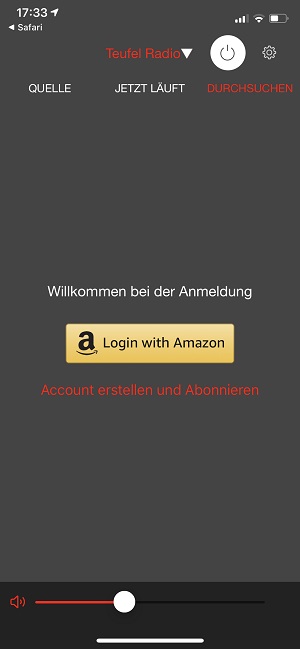 Confirm the login and WAIT a short time until the device integrates "Amazon Music" (depending on your network it may take a while).
Now the service is available under sources in the app AND on the device.