This is what the Bluetooth USB Adapter can do:
The Bluetooth USB Adapter is suitable for retrofitting Bluetooth to selected Teufel Streaming/Raumfeld systems (exact listing below).
All product information >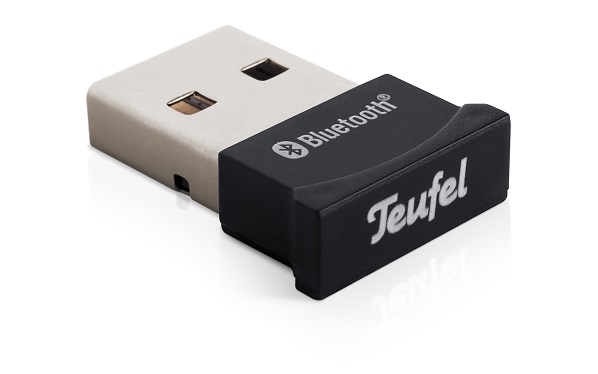 The Bluetooth USB Adapter is compatible with...
Teufel x Rosenthal, Teufel Soundbar Streaming/Streaming Easy, Teufel Sounddeck Streaming, Teufel Connector, Raumfeld One S, Raumfeld One M, Raumfeld Stereo M, Raumfeld Stereo L, Raumfeld Soundbar, Raumfeld Sounddeck, Raumfeld Stereo Cubes, Raumfeld Connector².
Commissioning Preparation
- Make sure that the Teufel Streaming/Raumfeld device to be upgraded is ready for operation (LEDs light up) and that the USB slot on the back of the device remains easily accessible. It is also best to stay close to the device.
- Check whether the latest software version is installed on the device and Teufel Raumfeld App.
- In the smartphone device settings, open the Bluetooth menu with the overview of available devices and make sure that there is no active Bluetooth connection to third-party devices during startup.
- Keep the Bluetooth menu open, but bring the Teufel Raumfeld App to the foreground.


Commissioning instructions
Remove the Bluetooth USB adapter from the packaging and insert it into the USB slot on the back of the Teufel streaming device. 2.
Now switch to the settings menu of the Teufel Raumfeld App on the details page of the streaming device and activate the Bluetooth pairing mode there(menu path: Settings > Rooms & Devices > (tap device with USB adapter) > Room Settings > (tap device again) > Details > Bluetooth Pairing.
Screenshot view Menu Details with the Bluetooth option: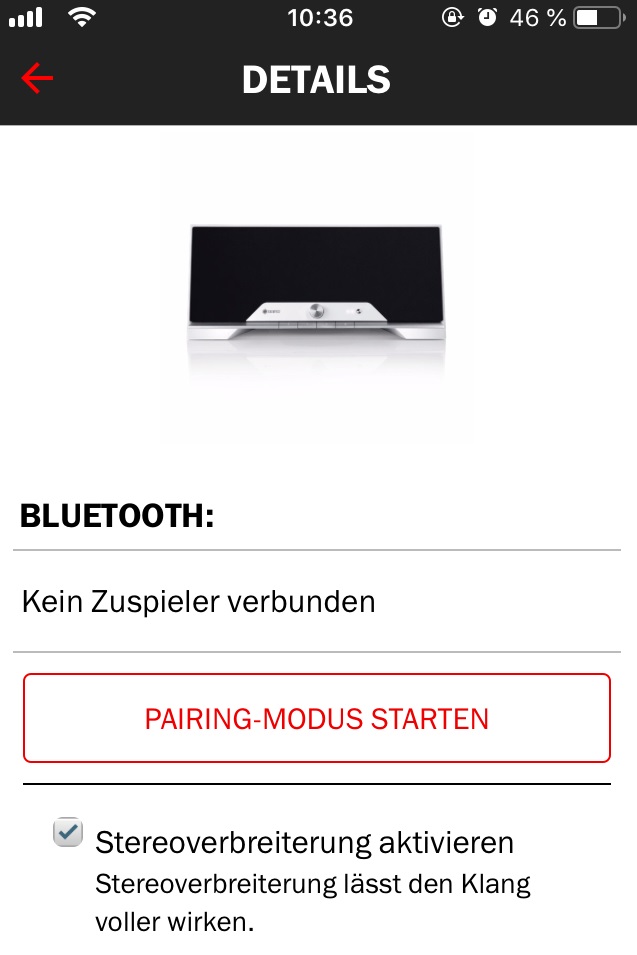 Note: The Bluetooth menu in the Teufel Raumfeld app is only displayed if the streaming device is compatible and ready for operation and the adapter has been plugged in.
3. Now switch back to the Bluetooth menu of the smartphone and select the Teufel streaming device*.
Screenshot pairing process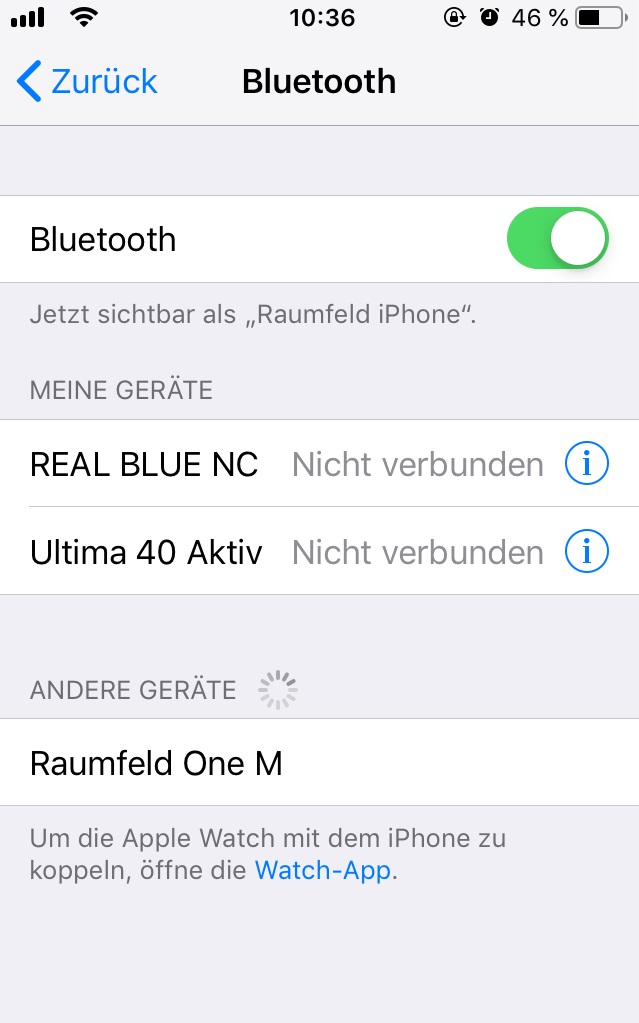 After a few moments, the device should now be paired: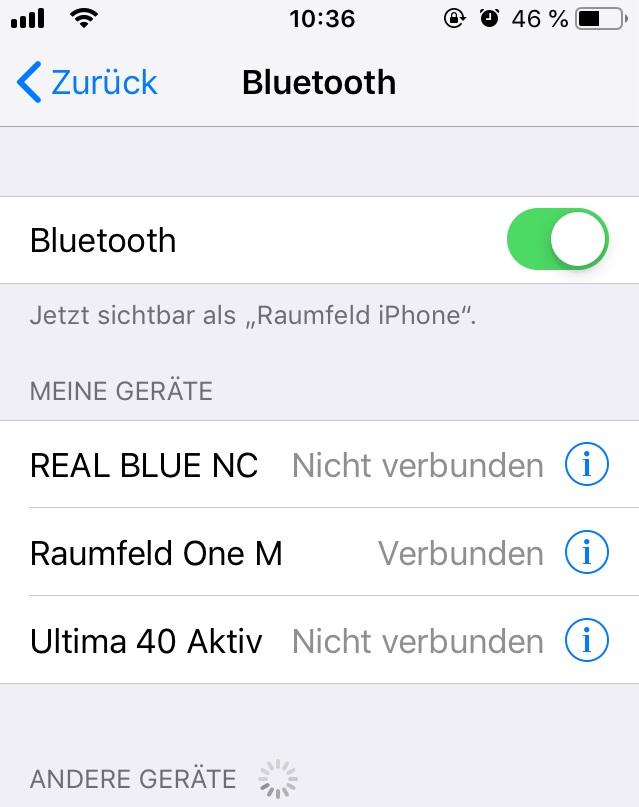 * If the device is not displayed under "Available devices", briefly deactivate Bluetooth and the search for new devices and then start it again.
5. switch to any streaming app on your smartphone (e.g. deezer or Spotify) and now stream music via Bluetooth to your streaming device.
Status display: Bluetooth stream on Raumfeld One M active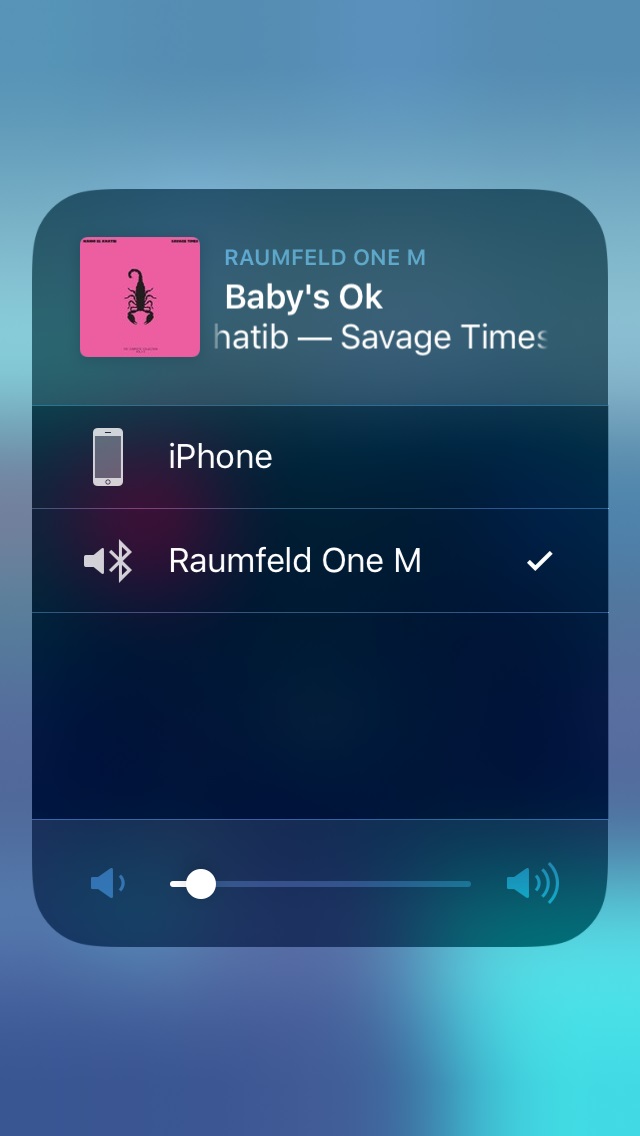 Troubleshooting
The device is not recognized?
If you are ever unable to establish a Bluetooth connection to the Teufel Streaming device, remove the device on your smartphone from the list of known devices and pair it again.