Due to a still very high parcel volume at our parcel service providers (DHL, UPS abroad, freight forwarding), there may be delivery delays or even partial deliveries.
Please note:
You can track your shipment here yourself. You only need your order number (starting with 3) from your order confirmation and your zip code.
Even if you have received only a part of your order, please wait - the rest will come.
Our parcel service providers and we will do everything to ensure that your parcels reach you as quickly as possible.
Please note the current information of our logistics partners
current information forwarding agency
Deliveries to Switzerland can take up to 14 days - due to the processing of customs formalities - especially for freight forwarding shipments.
After placing your order, you will receive an e-mail confirming your order and stating the estimated shipping date:
Example:
As soon as your order has been handed over by us to the responsible logistics provider, we will also send you an e-mail with the shipping confirmation and the option to track the shipment. You can see the exact delivery status there via the link "shipment tracking".
If you have not received this mail, please check your spam folder, occasionally e-mails get lost there.
Example: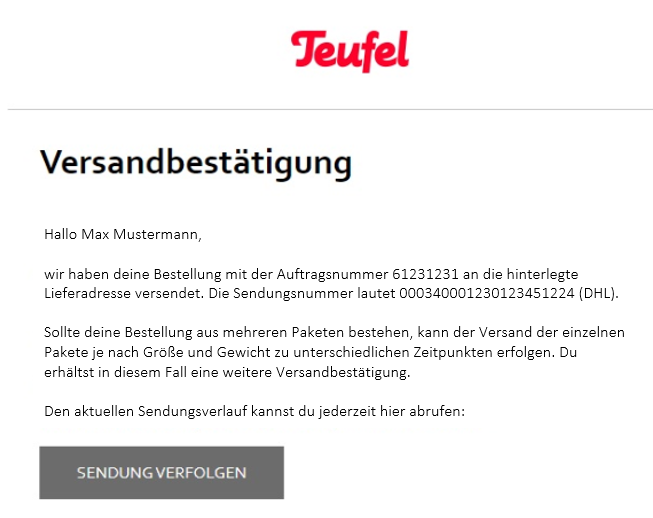 --------------------------------------------------------------------------------------------------------------------
Alternatively, you can also check the status of your shipment with the respective shipping service provider. Please enter your shipment number from the shipping notification on the respective page:
For deliveries with UPS: Contact
Do you have any questions about delivery? Please contact us.